How to Organize Small Spaces in a Small Home
---
Hi there!
If you're coming from my buddy Sarah's article at Grace in My Space then welcome! It's that time of year where we want to open the windows, deep clean, and get things organized! In this article I'm sharing How to Organize Small Spaces in a Small Home with the help of the Container Store! We live in a small older home so that means there's never enough storage or closet room! But the Container Store has allowed me to make the most out of the space we have!
And bonus! After you check out the spaces I've organized you can head over to see several others that my talented blogging friends have done in their homes! They're linked at the bottom for ya!
*This post contains affiliate links.  If you click on these links and purchase something, I make a commission at no additional cost to you.  This helps to support my blog, so thank you SO much!* Also this post is sponsored by The Container Store but all thoughts & opinions are 100% my own.
Small Space #1 Entry Closet 
If you look at the picture of our home below you can see that there's a small pop out as you enter our front door. This has always been an awkward space in our home because it's only about 18 inches deep. Yet I knew we could utilize this space better. So I decided to finally organize this small space and turn this area into a coat closet/entryway drop spot.
Small Space #1 Entry Closet Before
Here's a look at the space before the Container Store came to the rescue! It's a difficult space to photograph as well because it's so small but bear with me it turns out great!
Entry Closet Organization 
You can see why this space was a challenge for both function and style. Here's how I got this small space ready to organize:
Take everything out and clean the space.
Measure the space to know what will fit. One side of this space is about 3 foot wide while the other is only about 18 inches. The Container Store is good about giving product dimensions so that makes it easy!
Paint! This was the last space that was still blue in our home.
The fun part! Shop the Container Store for organization possibilities!
What I Ordered to Organize this Small Space!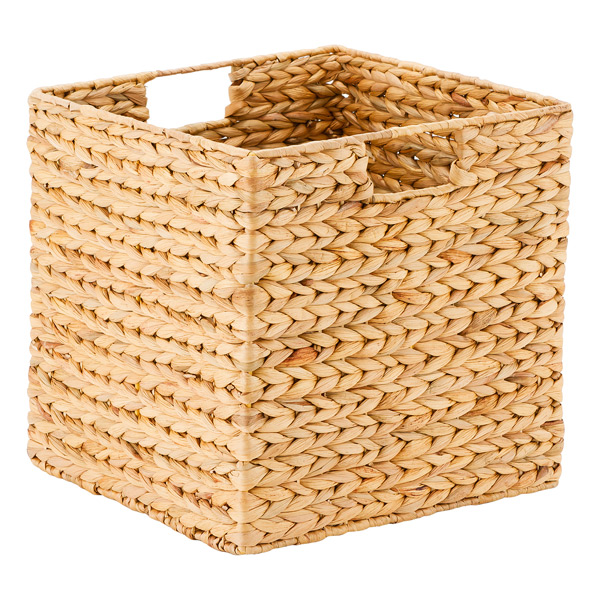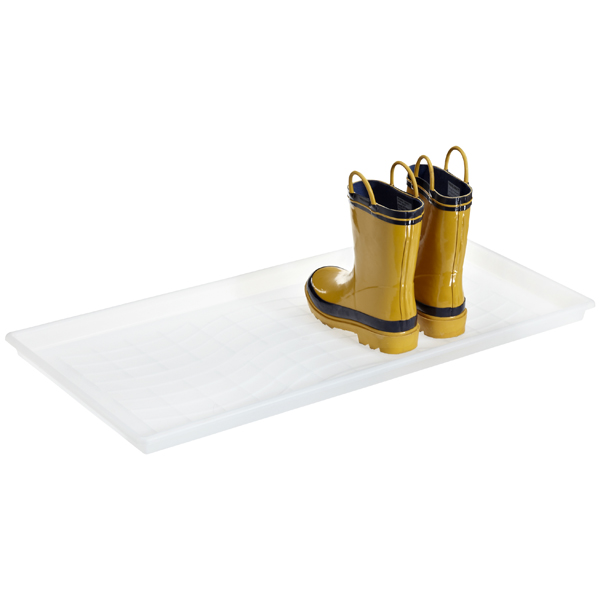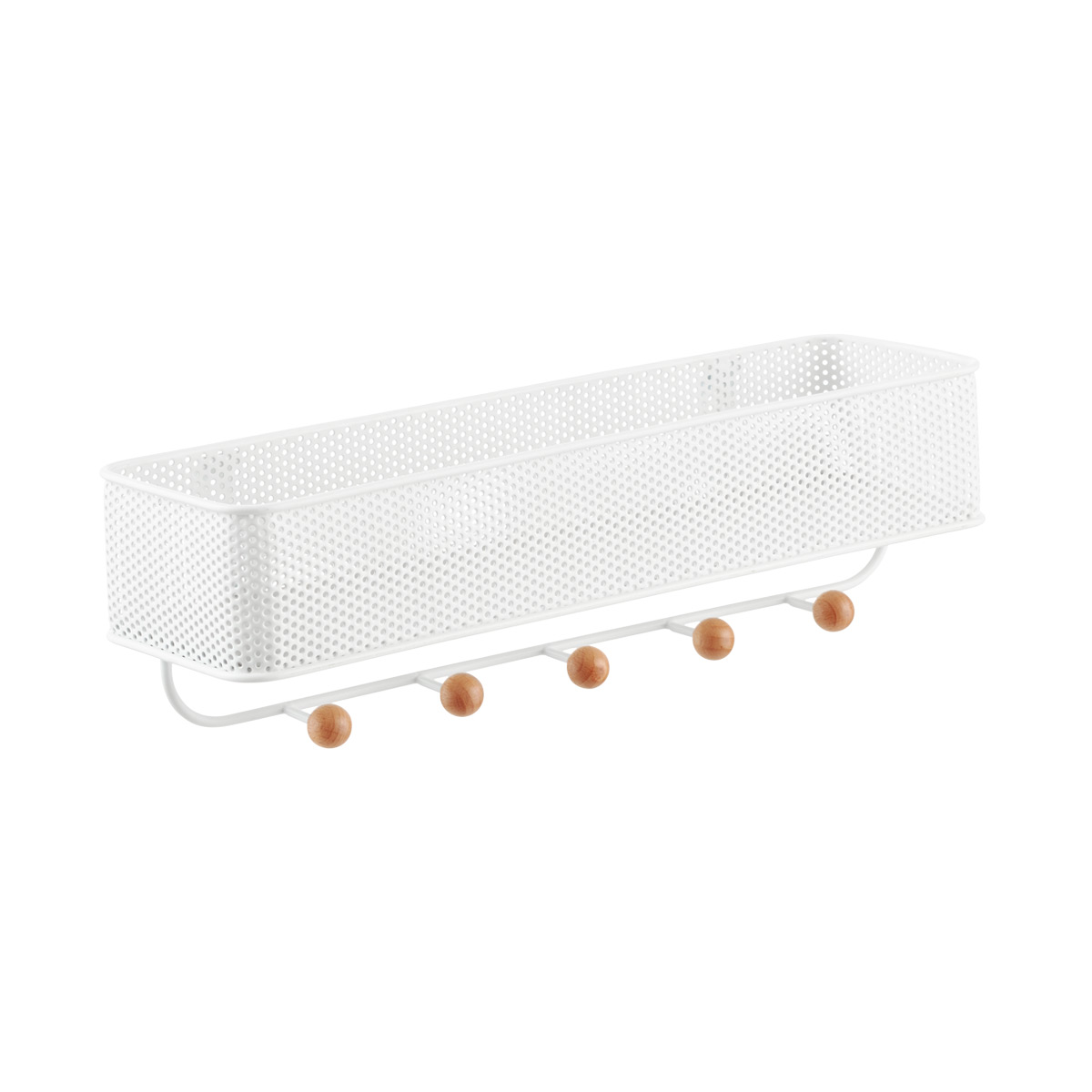 How I Organized the Longer Side of this Small Space
After painting I hung the 3 Maple Shaker Peg Racks on the longer side to hang coats, hats, purses, scarfs, etc. on. I placed 2 on one side and 1 on the other. I love their natural wood tone too!
Next, I assembled the White 4-Shelf Shoe Stacker and set it on this side, but later decided it was more functional on the smaller other side. But the Boot Tray fit this spot like a glove! No more muddy shoes on the floor! Yay! I was happy that they carry this white or clear option!
How I Organized the Shorter Side of this Small Space
For the shorter side of the space Ed built me 3 shelves to place the 3 Water Hyacinth Storage Cubes with Handles on. These will be perfect for smaller items such as hats, gloves, purses, dog harnesses, etc. I really like that they'll keep things hidden but are also adorable and add lots of texture to the space!
Like I mentioned I moved the White 4-Shelf Shoe Stacker to this side, which made it more accessible. Then I added the Umbra Estique 5-Hook Organizer to the inner wall of this side, which you can't see from outside our home. This is perfect for keys, wallets, and sunglasses!
This was very challenging space but now it is incredibly functional and feels like a part of our home when you walk in!
Now c'mon inside for the next space I organized…OUR BEDROOM CLOSET!
Small Space #2 Our Bedroom Closet 
Again our home is right at 1000 sq ft and has 1 CLOSET on the main floor (thank goodness for basements but still!). Our bedroom closet is the only one we have so we have to make the most when organizing this small space!
Here's the before, no judgment please!
Small Bedroom Closet Organization
Again, this is a challenging space because it is so small and there's also because the basement steps were built out into it. This creates a big deep boxy shelf on the left bottom side.
Here's how I got this small space ready to organize this small space:
Purged clothes and shoes! I got rid of a TON and it feels so good!
Cleaned the space
Measured the space
Fun part again! Shopped The Container Store for organization possibilities!
Here's What I Ordered to Organize this Small Space!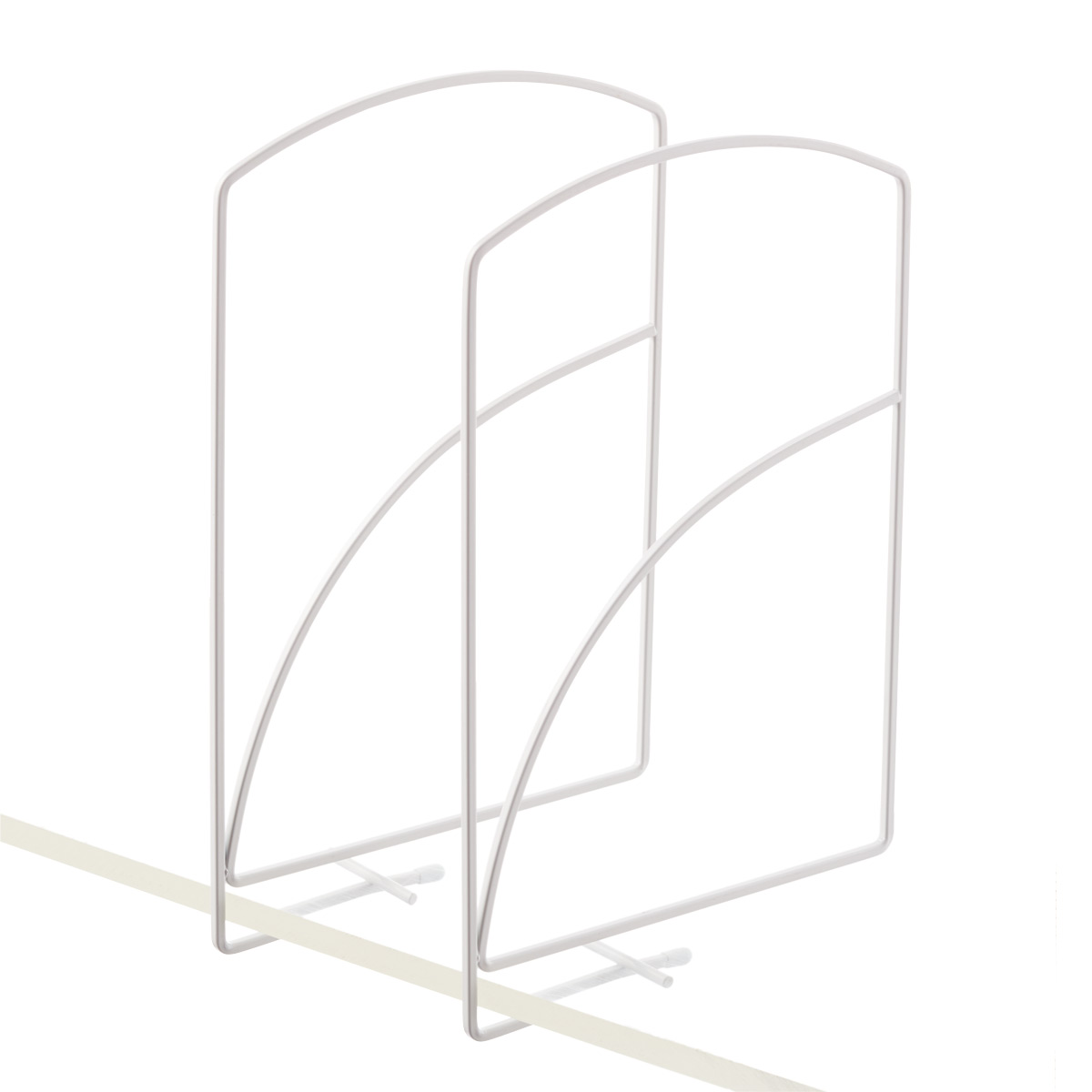 How I Organized this Small Closet Space
The Lynk Tall White Solid Shelf Dividers Pkg/2 made for a perfect divider on the top shelf! It keeps jeans and sweatshirts nicely stacked and separated.
Let's talk about these Joy Mangano Platinum Huggable Hangers Case of 40! Holy moly I never knew how wonderful hangers could be! They have doubled our closet space because they make your clothes lay very flat and smooth! It's amazing! Also you'll never have to worry about your clothes sliding off of them!
Our closet holds most of Ed's shirts and some of my out of season clothes on the top rack. I also keep clothes in our antique chifforobe and again these hangers saved me so much space! They're awesome and worth the investment!
My Favorite Organization Item
My big ticket item and game changer for our closet was the White Elfa Utility Closet Door & Wall Rack Solution and let me tell ya she's worth her weight in gold! It took less than 10 minutes to have it assembled on the door and it brought SO MUCH FUNCTION to the space!
Every part of it is movable and customizable and they have so many options for attachments! Now I feel like everything has a place!
How to Organize Small Spaces in a Small Home
It can feel overwhelming when you start to organize your home but I hope this article shows how even the smallest spaces can be made functional and organized. No matter where or what you're organizing if you follow the same steps I did for these small spaces you'll do well! Just take it one space and one step at a time!
Yay for Organization!
I want to give a big shout out to The Container Store for making helping me organize small spaces in a small home! Both of these small spaces are so much more organized and functional! Plus they look so much better! Personally, I don't like clutter. It gives me anxiety especially in a small house where we're short on storage. But when things are organized it feels calm and peaceful in our home.
Now hop on over to see the space my friend Bethany's organizing in her home at Crisp Collective blog!
9 Spring Cleaning Tips & Organization Ideas
Grace In My Space | Mid County Journal | Crisp Collective
She Gave It A Go | Jenna Kate At Home | Designs By Karan
City Girl Meets Farm Boy | The Tattered Pew | Aratari At Home