This Week at the Farm: Louisa, Boots, Blog
---
Hey there!
Hope your week is off to a great start! I've been really busy here at the farm over the past week doing all sorts of behind the scenes things here on the blog that I'm really excited about and hope you will be too! Let me catch you up this week at the farm!
Behind the Scenes
Behind the scenes stuff isn't always my favorite since I'm learning everything as I go and it seems there are always technical issues involved namely internet related issues. Welcome to country living lol! But I thought I'd give you a little hint as to what's coming 😉 Hint: it's related to the picture below! Can you guess what it is? More information to come soon! Promise!
Louisa
Another interesting thing I wanted to mention is that I've come to realize our only California White chick is blind. I've noticed behavioral differences in her from the beginning but now that I've been able to observe her in their run and coop it was much more obvious.
I don't know if she's totally blind, but she doesn't react when you move your hand in front of or toward her. She also takes big steps like she's feeling for her surroundings. Another thing that made it very obvious is that she never go for or pecks at the treats I give them when all the other chicks are going crazy for them. I've even tried offering them just to her when the others weren't nearby. I've spent the last couple of weeks making sure she is able to get in and out of the coop during the day and she's doing great!
We also let the chicks free range yesterday while we were working on their run. This was my main concern. I'm afraid they'll leave her to quickly and she won't be able to hear them to keep up. She did great though! So we'll see how it goes in time. One thing is for sure though she's completely captured my heart! And I may or may not have ordered her a chicken diaper "in case" she needs to come inside 😉 Lol!
Chicken coop and run progress post coming soon!
Boots
Maybe not that exciting, but Ed surprised me with a pair of cowgirl boots last week! They might be my favorite shoes ever! So cute and SO comfy! He's a good one y'all!
You can find them HERE or click the pic below!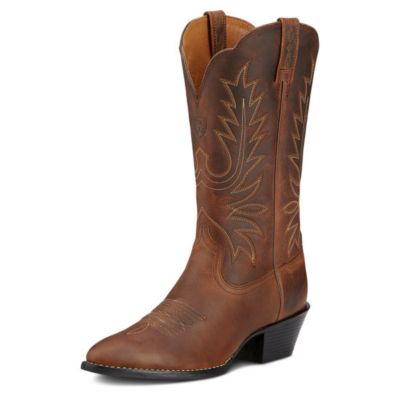 Ariat Women's Heritage Cowboy Boot
This Week at the Farm: Louisa, Boots, Blog
We're working hard to try and wrap up a few outside projects like the coop and property cleanup before it get really hot out. I can't believe it's almost the 4th of July! I am READY to turn our attention back to the inside of the farmhouse! Things you can expect to see us working on soon are the staircase and our upstairs bedroom! Are you working on any projects this summer?
Have a great week and thanks so much for stopping by the blog today!